Our 2 Way Messaging platform lets you send and receive SMS, manage incoming messages, garner customer feedback, and modify/alter or even delete received messages.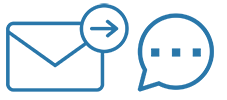 Our "Email2SMS" platform lets you send SMS to multiple recipients from any email client/application to any mobile phone across the globe.

Send a generic message to all recipients or a custom message to each recipient based on a template. Our scalable and robust interface lets you send thousands of SMS messages every second, based on your business needs.

Use our diverse range of APIs to connect your website and software applications to our SMS gateway, within a few minutes. Our custom-built APIs enable easy connectivity to our SMS messaging platform.

Our MS Excel plugin is a Microsoft certified plugin, which lets users send thousands of personalized & customized SMS messages with a single click.

Our Desktop SMS Software is a comprehensive and powerful desktop tool that lets you send SMS to mobile phones across the world directly from your computer.
Features and Benefits of SMS:
---
We cover all networks

We typically use Microsoft Excel SMS Plugins to send SMS

We provide Dynamic Sender ID and SMS Delivery reports to clients

We offer SMTP, XML, COM Object, SMPP, HTTP APIs to enable easy integration

A team of dedicated customer support specialists to assist you with any issues

We deliver SMS to over 200 countries and 550 networks all over the world

We deliver Bulk SMS on behalf of our clients and share SMS status reports